Hello everyone,
as you may have noticed I finished with the moving of posts and deletion of my other blog.
---
---
I've been busying myself with several things right now none of which have been terribly exciting, first is this: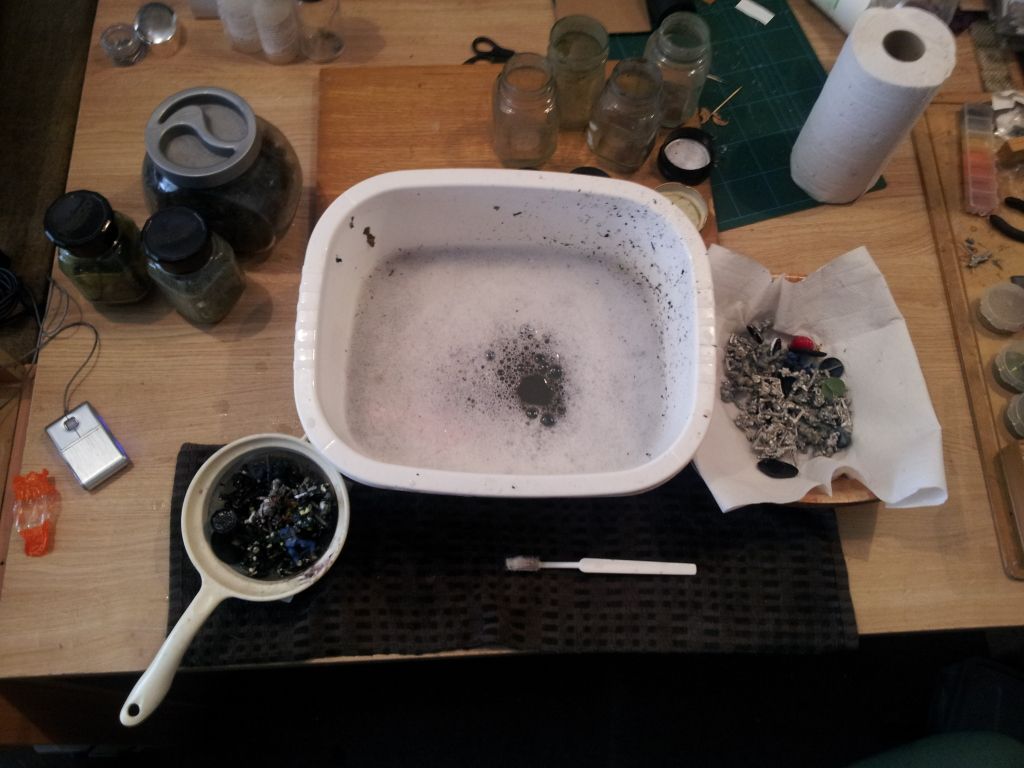 Rescuing and stripping the paint from quite a load of my old miniatures languishing at the bottom of my bits-box.
---
---
The second thing I've been working on is: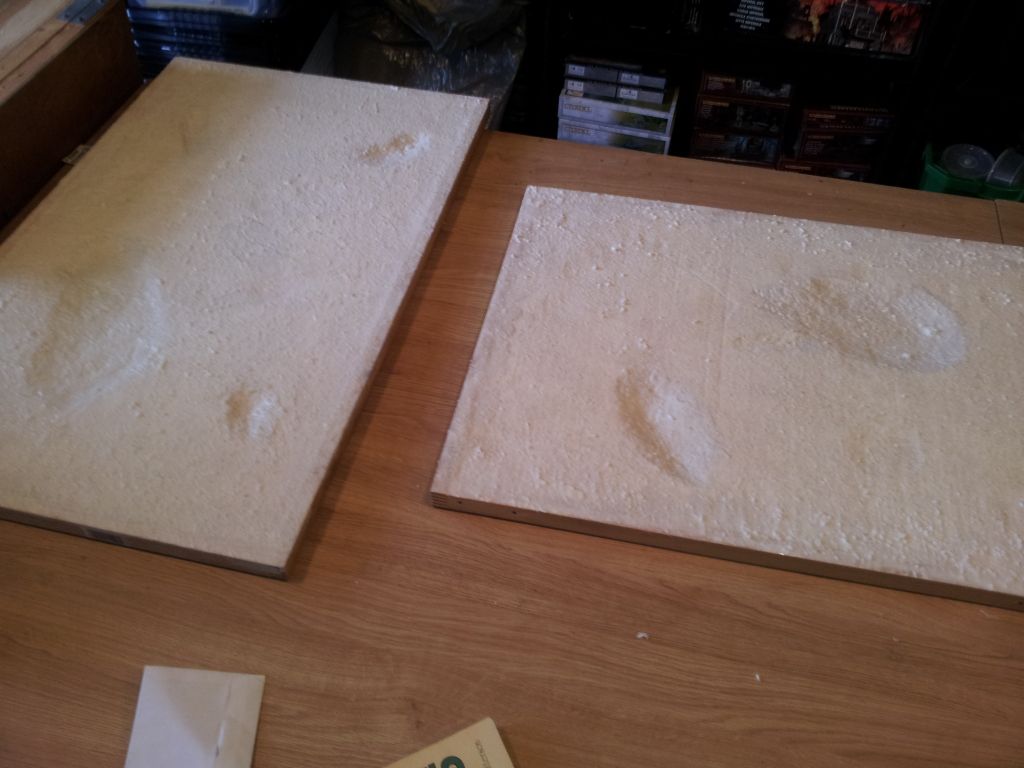 These are two of the four skirmish boards that I started back here at the bottom of this post:
Paste Table Gaming Boards
.
These two have had polystyrene sheet inserted into them and then uneven ground carved into it, now I'm just waiting for the texture paint to dry before I can work on them further.
They are going to be painted/textured for a slightly swampy/woodland setting, I'll be using water effects in the craters I made.
The other two boards need more work and are going to be done in an industrial/urban style.
And of course, I'll be working on pieces of terrain to go with these skirmish boards too later on.
---
---
And the third:
I've got quite a handful of posts that have been floating in the draft limbo of blogger (some of them for months... heh... sorry...), just waiting for me to finish writing and editing them to post up and I'll be getting right to that and you should be seeing these start to appear in the next couple of days.
---
---
Also on top of all this I have various other projects and bits and bobs I'm either working on right now, stuck on, or have just shelved because something else took my fancy...
Here's a rundown of them:
Roleplaying
I ran an RPG of Vampire the Masquerade several years ago, which the players and I enjoyed very much. I have been asked by those players to go back to it and pick it up from where we left off. So the second season of my Vampire chronicle: Sins of the Father is now in planning, I just need to refresh myself, my notes and write a round-up of season 1.
The Pathfinder RPG campaign I am running is on a short hiatus, but instead of being an organise and drop in game, there is a possibility I'll be getting a regular time-slot to run my campaign: Beyond the Wardwall in the near future.
I'm still supposed to be writing some articles on my perspective on RPG world creation, creating Gods and some other things.
I'm going to prepare some one-shot games with various systems, they probably won't be run anytime soon, but they'll be ready to go when I need them.
Miniatures/Wargaming
I'm still working on my veteren guardsman "Freeman" and the short zealot that I posted earlier HERE.
I have several other miniatures in various states of conversion right now.
I still have a few pieces of terrain to finish that I was working on including the temple I posted HERE
I still need to paint the Half Dragon miniature I converted as a gift (now long overdue) for a friend.
I was working on a Night Goblin army for Warhammer, I got about 1000pts painted to tabletop level,but I want to expand it a lot more and improve the paint jobs.
I was also working on an Empire army for Warhammer that was building up through an escalation campaign my friends and I were playing (I can only find the Handgunner suport of my swordsmen right now for some reason...)
For Warhammer 40,000 I was working on a force of Road Warrior inspired Orks.
Other
I still have many folders of my photography to go through, organise and to upload to my deviantart account.
---
---
Yeah...
Like I said...
Busy... And no focus...
So... Bit of audience participation?
If there's anything you'd like to see more of on the blog or any of the above seems interesting, just give me a shout and we'll see...
Reet... I'm knackered... Gonna put my feet up for a spell.
Take care everyone,
Jonah